Winter – A Great Time for Planning Your Garden
Winter Gardening Plan
During the winter in Northern Virginia our gardens take on a truly different beautiful look. With snow on the ground and covering our trees the landscapes have a surreal, peaceful feeling as nature hibernates in preparation for Spring. The garden that was so green and lush during the summer has gone to sleep.
Fairy Tale Gardens
Nature's winter beauty takes on a fairy tale appearance. A gentle snowfall seems to purify the air. The cold crisp air beckons us to stay warm inside with a hot cup of chocolate while we watch with awe nature's most dramatic change to our garden.
Click Here for dramatic landscape images.
Winter Color
Just because it is winter does not mean you have to give up all the color in your garden. Winterberry has bright red berries all winter long. Many evergreens look good and add texture throughout the winter. Don't forget about ornamental grasses. Many ornamental grasses look great during the winter.
Here is a list of plants from Fine Gardening that do well in Northern Virginia throughout the winter:
7. Variegated Red Twig Dogwood
8. Heucheras
Winter is a Great Time for Planning Your Garden
Winter can be an exciting time for garden planning. It is fun to watch the snow falling and dreaming about the plants that will look great in your garden next year. Consider these ideas for your next garden plan: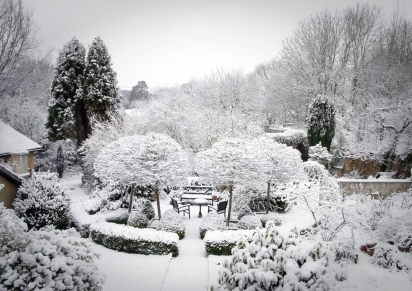 – Vegetable Garden
– Small Space Gardens
– Shade Garden
– Water Feature
– Repurposing Garden
– Natural Garden
– Perennial Garden
What would you like to add, change, or create to express yourself in your garden?
Connect yourself with your garden in a most personal way. We'd love to help and…
Give us a call today – (703) 631-0983