Our Services
Design to Installation
We take your dreams and turn them into reality with stunning landscape designs. From concept to completion, attention to detail is evident at every step of the process. We listen intently to your ideas and create the most beautiful outdoor space possible – a landscape that is unique to your personal style and taste.
Additionally, we are pleased to work with plans prepared by other design professionals. Working in a collaborative process with your landscape architect or landscape designer, you can rest assured the selection and installation of plant materials for your project will be successful.
Art In Your Garden
Stone elements provide beauty and create function in your garden. Properly installed, stone creates definition and becomes an integral element to a well crafted design.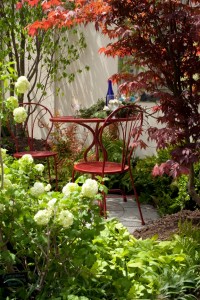 West Winds Nursery has extensive experience in:
Dry stack stone retaining walls
Pennsylvania Bluestone patios, terraces and walks
Paver patios, walks and permeable driveways
Perennial Gardens
West Winds Nursery has a long history creating the most exciting outdoor gardens utilizing our wide assortment of perennial plants. Preferring the long-lasting, ever-changing beauty of perennials, we grow many selections so you can be assured of only the finest plant materials.
The Design Process
We love to start the process with a no-obligation client meeting. This is where we learn of your needs and desires. We start to understand what makes your heart sing in your garden. We carefully note your preferences. If, at this point, you feel comfortable proceeding, we quote a modest design fee. This fee will be credited towards the installation of the project.
Here is what our customers are saying: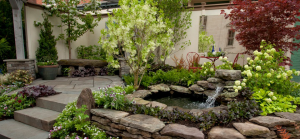 "I never dreamed this could be done with my yard . . .When I saw the design I knew I had to have it!"
"You listened!"
"Exceptional sense of design"
"The final product for sure is the lasting testament to the calibre and quality of work that you put into it, and it is nothing short of fantastic!… Your focus on lines, curves, colors, textures, layout and materials made the project have the quality of feel that we were looking for."
What we Love . . .
. . . creating exquisite outdoor spaces for you to enjoy. Garden settings to relax and enjoy the outdoors and, when the weather is unpleasant, provide a pleasing view from inside. Your garden can be a place for birds, butterflies, and other wildlife to find food and shelter. Our strong skills in selecting absolutely the best plant for your unique garden in unmatched. Our stonework is pure artistry. Together this creates unique spaces with interest that last throughout the year. We enjoy the special challenge created by each project to create custom entrances, terraces, and garden walkways. Each space is a unique reflection of your loves and desires.
Implementation
With an old-fashioned sense of beauty, true gardens take time to build. Many are created in stages, each year a new stage is added building upon the beauty of the last. We love to implement a project in phases. In the first phase we develop the architectural framework. Trees create shade. Shrubs develops screening. Lawns invite vistas. Garden paths and terraces are added for definition and functionality.
Subsequent phases can include flower beds featuring shrubs for depth and texture, perennials for color and variety. All combine to invite you outside to further explore and enjoy.
Finally, Garden accessories and water features are added to create motion and sound.

How It Is Done (at West Winds Nursery)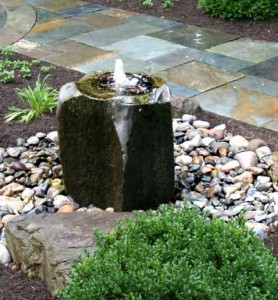 We take special interest and care in selecting all the elements in your project. Everything has to exactly right. The plant material is hand-picked by our staff. Any unique elements. such as boulders or unusual hardscape features, are specifically chosen with your interest in mind. When our installation crew arrives, the layout and placement of everything is done in close coordination with your designer. The lead project foreman or the designer is present throughout the construction process.
The Transformation
The transformation of your garden will be fast. We employ large work crews  to complete as much work as possible in a single day. This minimizes any disruption to your lifestyle. A strong attention to detail is maintained throughout and extra care is taken to protect all existing lawn and landscape elements in your yard.