Plants We Love – Lenten Rose
Helleborus orientalis (x hybridus), Lenten Rose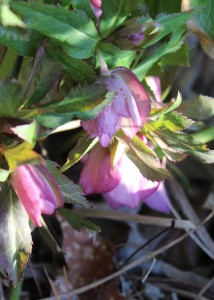 Winter Color
The Lenten Rose or Helleborus orientalis(x hybridus) is a magical winter treasure.  This wonderful herbaceous perennial blooms and has color when not much else does in the late winter.  The Lenten Rose will offer your garden 8 – 10 weeks of color.  The first signs of color are when the blooms emerging till the flowers start to seed.
Attributes and culture
One of the Lenten Roses' best attributes is that it is a shade lover and even one step better is that it is an evergreen too. The flowers on the Lenten Rose start emerging along with the new foliage that is coming up in February to replace the tired foliage from the year before.  The older foliage can be trimmed back at this point.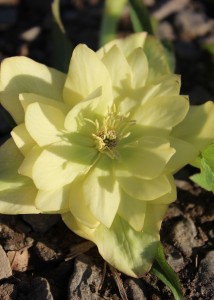 Hybridizers are going all out with the Hellebores and there are many "series" as they call them.  Some examples of the different series are the Lady, Spring Promise, Winter Jewels and Winter Thrillers Series.  The fact that there are so many stains gives a fantastic selection of flowering gems.  Colors and flower form vary widely from pinks to whites, purples to greens, singles or doubles, petticoat style or picotee rimmed flowers.  Below is a list of a few but there are hundreds of varities that you can check out.
Deer Resistant
Additionally, the Lenten Rose is deer resistant which is a major plus for a lot of gardeners that have frequent four legged visitors.
Varieties
Amethyst Gem –  double, purple flower
Golden Lotus – bright yellow – lime flowers that make any dark spot in your garden stand out
Onyx Odyssey – double black flower
Pink Lady- single white flowers with a blush of pink
Tutu – known for its bright pink red double flower
Statistics
Key feature: Year Round Interest
Plant type:  Herbaceous perennial
Deciduous/evergreen: Evergreen
Cold hardiness zones: 4 -9
Light needs: Partial to full sun
Water Needs: Requires regular watering till established
Average landscape size: 1 – 2 feet
Growth habit: Upright ground cover
Special features: Deer Resistant
Landscape uses:  Winter interest, herbaceous planting
Flower color: Shades of pink, red, yellow and white
Flowering season:  Late Winter/Early Spring
Foliage color: Dark Green